About Phonics Power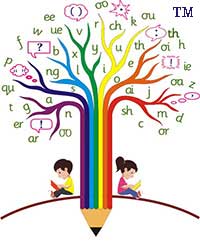 Phonics Power was founded with a vision to provide a scientific English learning experience to young children – an experience that will serve as a launch pad for their success in academics.
Learning English the right way helps children understand how the language works which in turn allows them to think in English and eventually communicate effortlessly both in social and academic situations.
So what is the right way to learn English? Enough has already been said and written about the short comings of rote learning – which is how most of us learnt the language – if this is not the right method – then what is right?
Language is to be spoken and not written; and it is meant to be learnt intuitively. How did we all learn our mother tongue? We learnt it by listening to the sounds around us; sounds are then translated into words; words then are strung together to make sentences. Fundamentally it is deciphering the sounds that helped us learn our mother tongue; if this is the intuitive and natural way of language learning, shouldn't we apply the same principle to teach English to our children?
Our courses: Our curriculum is based on the highly interactive, engaging and scientific phonic based English teaching methodology prescribed by Jolly Learning Ltd.,UK. Fully aware of prevailing English language teaching shortcomings, we have customised this universally acclaimed teaching methodology to suit our children's skill levels. Three different levels of Jolly Phonics & Grammar classes for children between the ages of four and ten are offered by us.
About the Founders
Mrs. RM. Shalini Devi,

Founder & Head, Tambaram Branch
Shalini is a passionate teacher, an enterprising woman and an engineer by qualification. Shalini spent over a decade in the corporate world and later quit her rewarding job to follow her passion in teaching the English language to young children. As a person with social responsibilities, she started teaching the underprivileged children in Government schools in association with NGOs. She used several methods to teach them the language.
read more
Mrs. Sharmila Ravi,

Co founder & Head, Annanagar Branch
A decade long stint as a kindergarten teacher gave Sharmila a wonderful opportunity to experience the unconditional love of children and understand the shortcomings of mainstream school curriculum. The bond, children had with her and the faith shown by their parents inspired her to search for alternatives to 'rote learning'. She believes that the superficial language teaching methods followed by schools at the foundation level neither prepare children for primary level learning nor nurture their love for reading.
read more